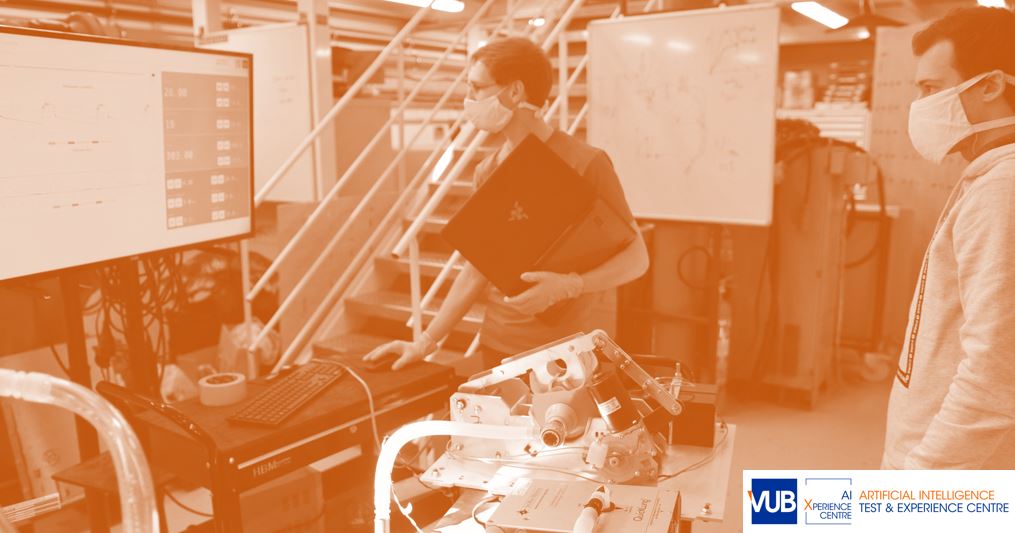 Learn about the technological challenges & the lessons for Technology Experts, Academics & Policy Makers presented in the crisis of COVID-19
The AI Experience Centre invites you to participate in the second session of its webinar series all of which focuses on the key takeaways of the recent COVID-19 outbreak across a variety of sectors.
When?
Tuesday, May 12, 2020: 17.00 – 18.00
Where?
Prior to the event you will be provided with an URL address of the webinar.
Agenda:
17:00 – 17:05: Introduction by Hans De Canck, Manager of the AI Experience Centre
17:05 – 17:35: Presentation by VUB Experts
17:35 – 17:45: Expert colleague reaction (CLAIRE)
17:45 – 18:00: Q&A online attendants
About the Session:
The AI Experience Centre has invited researchers from the Mechatronics dept., Brussels FabLab and BruBotics to talk about their work amid the crisis. Prof. dr. Bram Vanderborght, ir. Albert De Beir, ir Lieven Standaert, and Prof. dr. Mark Runacres will join us on this occasion to share their knowledge on Open Source actions in the field of Mechanics & Robotics (Producing Open Source Ventilators, 3D printing challenges Decathlon Mask). They will conclude with the most important lessons learned and outlining the challenges that are still ahead of us.
About the Webinar Series:
The AI Experience Centre of the VUB is dedicated to emerging as an enabler by connecting academic expertise of the EU AI Framework with relevant stakeholders. The Centre is comprised of leading research groups (Artificial Intelligence Lab, BruBotics, ETRO, and SMIT) in the field of Artificial Intelligence and Robotics. In the wake of the outbreak of COVID-19 the research groups and the Centre have dedicated their expertise to help health, policy, and economic decision making. We would like to invite you to learn from this experience together. from experts to improve ongoing and new projects that involve AI & Data innovation and to enhance the role of academics & scientists to create a human-centric post-corona society. A society where AI & Data technology contributes to the Common Good.
Stay tuned for our next webinar on CT Lung Image Analysis and AI presented by Prof. dr. Jef Vandemeulebroucke from the ETRO research group, Prof. dr. Johan De Mey from UZBrussels Radiology departments, and Dirk Smeets from ICOMETRIX on Friday, May 15, 2020: 11.00 – 12.00. Sign up here to secure your spot.
To not miss any of our news visit our website.
Any Questions? Email us at hans.de.canck@vub.be